Shale Stone
| | |
| --- | --- |
| Joined: | |
| Location: | |
| Posts: | |
| Status: | Offline |
Collide
Movie Blurb by Shale
February 25, 2017

This movie is an orfan with a ruf childhood. It was born in 2014, but its parent Relativity Media died of bankruptcy in 2015 before it was released. Then its foster parent Open Road Films took it for release in Spring 2016 but it got shuffled from one release date to another until finally it was released yesterday.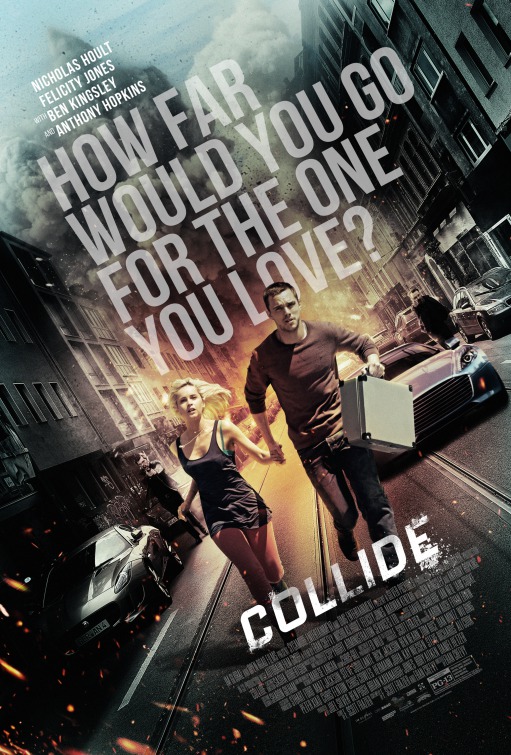 I like the gangly, young actor Nicholas Hoult who is now 27 years old but was just 24 when this movie was made (The same year he played Hank in X Men: Days of Future Past and a year before he played Nux in Mad Max: Fury Road).

In this movie he plays a young expatriate American man, Casey living in Germany and selling drugs to young clubbers. He meets a girl at the club, Juliette (Felicity Jones) who has seen his activities and doesn't approve.

Casey in Club



Casey is so smitten by her that he quits his evening job and gets a day job at a recycling yard. They fall in love and shack up.

Casey & Juliette Cuddle on Couch



All is going well until Julie becomes ill and needs a surgery she can't afford. So, Casey goes back to his old boss Geran (Ben Kingsley) who has a big score for him. He wants Casey and his friend Matthias (Marwan Kenzari) to rip off the drug lord Hagen Kahl (Anthony Hopkins).

Geran



So, that plan starts to go down OK, but turns sideways real fast and the rest of the movie is Casey being chased all over the Autobahn by Kahl's murderous henchmen. Casey steals high end sports cars for his escapes from one confrontation to another and it sometimes looks like a European Art Flick of Fast & Furious.

Casey on Run with Money



As I mentioned this movie is an afterthot and probably was destined to go str8 to DVD, but they did a theater release. It got panned by the aggregate critics on Rotten Tomatoes with a 19% fresh and there weren't any reviews or critic's consensus. Only 31% of audiences liked it and I am glad that I found it entertaining, even with all its flaws.

I only went to this movie because I needed an excuse to ride 8 miles to the Cineplex on this beautiful SoFlo day. I knew the poor ratings before going but it was the only opening movie that looked interesting. Plus, I liked Nicholas Hoult as a typical young man with no actual skills except for resilience and quick thinking on the fly getting thru all the chaos. And, it was a love story after all, "How far would you go for the one you loved?"